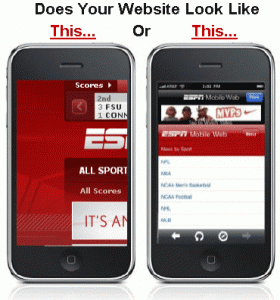 These days more and more people are using their mobile phones to find information and access websites owned by people and businesses.  But if a potential customer can't navigate your website easily to find the information they are looking for, then they will go somewhere else to find what they were looking for.  Now that's bad for any business.
These days there are many mobile phones that can give you access to the internet to display the different kinds of websites out there.  But as a business who might have a complex multi-page website, your potential customer might not be able to access what they need or what they are looking for on their mobile phone.  Full websites load slower and do not display all features of websites.  Mobile websites are made to display the information you want the customer to see.
Step into the shoes of your typical customer as they sit in a restaurant, their car, or upon a bus stop bench. THINK what are the "things" about your business or product/service that someone would want or need while they are Mobile.  Consider these items…
1. Mobile Coupons
2. Maps/directions
3. Hours of operation
4. Phone number (click to call)
5. Menu, list of products/services
6. Reviews / Testimonials
7. Discount offers
8. Event information
9. Interesting content (in micro-chunks)
10. Fast facts, micro tips, FAQs about your products/services
11. Twitter or Facebook links
12. A way to opt-in for something "mobile"
13. A toll-free recorded message number
14. A link to your full PC site
We can offer you the potential to reach those mobile customers through a custom website designed specifically for viewing on mobile phones.
Please Contact Us if you are interested in this service or would like more information.