Have Us Speak At Your Next Meeting Or Event
Looking for some great content to present at your meetings or event? Our Long Island SEO Expert will speak to you group on various internet marketing methods for today's small to medium businesses. Our presentations can be tailored to the b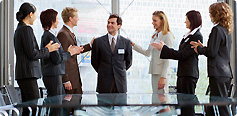 eginner or the expert. We can hold question and answer and/or website critique workshops, general presentations, or we can put together a topic that your group has interest in.
Some of our presentation topics include:
Do I Really Need To Be On The Internet
Getting Started On The Internet – What you need to know about your online customer
Building Your Website The Right Way
Unique Selling Proposition: Every Business Should Have a USP – Learn How to Brainstorm About Yours and Use it to Your Advantage
The Free Offer: How, What, When and Where to Use a Free Offer to Attract More Clients and customers, and Establish Credibility and Trust
Building a customer list and why it is so important
Keyword Selection – What are your customers searching for?
Market Research
Google, Yahoo, & Bing's Local Business Centers
Business Directories
Social Media – Facebook, Twitter, Linkedin and more
The Power Of Web 2.0
SEO – What does it really mean and how to do it right
Video Marketing
Email Marketing – Making your customers love you
The Power of Mobile Marketing
Marketing on Other People's Websites
Link Building – Making your website more popular
Tracking Your Web Traffic
Pay Per Click Marketing (PPC)
Your Getting Customers, Now What?
Providing Customer Service Online
eCommerce
And more. We can customize any topic for your group.
Our speaking presentations are per hour. Call for pricing. If you are looking for an all day event, please contact us for special pricing.
On occasion, if our schedule does not conflict, we do Free Presentations in our local market. Please contact us to schedule a Free Presentation for your group.